This article is about the novel. For other uses, see The Young Elites (disambiguation).
The Young Elites is the first book in The Young Elites Trilogy by Marie Lu.
Synopsis
Adelina Amouteru is a survivor of the blood fever. A decade ago, the deadly illness swept through her nation. Most of the infected perished, while many of the children who survived were left with strange markings. Adelina's black hair turned silver, her lashes went pale, and now she has only a jagged scar where her left eye once was. This marked her as a malfetto, an abomination, ruining their family's good name and standing in the way of their fortune. Some of the fever's survivors are rumored to possess more than just scars—they are believed to have mysterious and powerful gifts, and though their identities remain secret, they have come to be called the Young Elites.
Teren Santoro works for the king. As Leader of the Inquisition Axis, it is his job to seek out the Young Elites, to destroy them before they destroy the nation. He believes the Young Elites to be dangerous and vengeful, but it's Teren who may possess the darkest secret of all.
Enzo Valenciano is a member of the Dagger Society. This secret select of Young Elites seeks out others like them before the Inquisition Axis can. But when the Daggers find Adelina, they discover someone with powers like they've never seen.
Adelina wants to believe Enzo is on her side, and that Teren is the true enemy. But the lives of these three will collide in unexpected ways, as each fights a very different and personal battle. But of one thing they are all certain: Adelina has abilities that shouldn't belong in this world. A vengeful blackness in her heart. And a desire to destroy all who dare to cross her.
Plot
The book start with Adelina in a prison cell in Dalia, recalling how she ended up there. We're taken back to a stormy evening a few weeks prior. She overheard a conversation between her father, Martino Amouter, and one of his business partners. The man offers to buy Adelina from him so she could be his mistress, despite the fact she was underage, and her father agrees. Adelina runs away that night, stealing some valuables in the process.
Unfortunately, her father catches up and confronts her. In a haze of fear, she summons what she describes as towering black shapes spring up from the earth, startling both her father and his stallion, who rears up and hits its hooves into her father's chest, crushing it and killing him. Adelina flees the scene, but gets caught barely a week later and taken to Dalia, where she's kept for three weeks before her execution.
When the pyre is lit, she panics, drawing on the same unfamiliar that she had failed to draw on since the incident that resulted in her father's death. A plague of locusts descends on the crowd, terrifying both the gathered civilians and the guards. She quickly realises that they aren't real, however, and are actually just illusions. As the guards begin to realise this as well, the Reaper - a member of The Dagger Society - appears. He extinguishes the fire and saves her, but she falls unconscious.
While she sleeps, she dreams of a memory from when she was young, when her father was trying to coax her power out of her. She awakes with a start to find herself in a strange place, and shortly after the Reaper visits her, revealing himself as (disgraced) Prince Enzo Valenciano of Kenettra, and shows her his powers of Pyrokinesis.
Elsewhere in Estenzia, Teren Santoro is waiting for Queen Giulietta to return. Once he sees her, he pulls her behind a pillar and kisses her. She then inquires after Adelina, and Teren informs her that the Daggers took her, but that they have her younger sister, Violetta, in custody. The conversation ends with her promising to come to him later that night.
Characters

Adelina Amouteru: A sixteen-year old girl with olive skin, silver hair and a missing eye (due to it becoming swollen and removed as an effect of the blood fever). Adelina has a dark past and twisted opinions about the world and people around her.[1]She finds out about her powers on the night she accidentally kills her father, and is rescued by the Dagger Society right before she was about to be executed by Teren. She has the gift of creating illusions that can play with the sense of sight. Her Young Elite name is the White Wolf.
Teren Santoro: He is the leader of the Inquisition Axis and works for the king, seeking out the Young Elites and destroying them before they destroy the Kenettra. Although he believes the Young Elites are dangerous, Teren himself is one. His gift is the ability to heal almost instantly from any wounds (except of that on his eyes) and his only flaw is the change of shade of his eyes (from a dark blue to a light blue). He is in love with the Queen of Kenettra, and has known Enzo since he was young.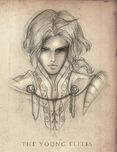 Enzo Valenciano: He is the leader of the Dagger Society, a secret sect of the Young Elites that seeks out others like them before the Inquisition Axis can. His Young Elite name is The Reaper. With blood-red hair and midnight eyes, his gift is to manipulate the power of fire and heat. From the blood fever, his hands are scarred thus he conceals them with gloves that are always bloodstained. He was once the Crown Prince of the nation, but after being affected by the blood fever, he was banished from the kingdom by his elder sister, who in turn became Queen. Despite knowing Teren when they were young, he was killed by Teren via a sword wound to the chest whilst accidentally being weakened by Adelina.
Raffaele Laurent Bessette: A consort, and a part of the Dagger Society. His gift is to be able to detect other Young Elites, although he was unable to detect Teren and Violetta. His nickname is The Messenger. He treats Adelina well but is shown in the book that he had advised Enzo to kill her due to the darkness in her heart (that were caused most likely from her traumatic experiences as a child). After Enzo's death, he is made the new leader of the Dagger Society and dismisses Adelina from it due to her actions and the consequences they all had to suffer.
Gemma Salvatore: Another member of the Dagger Society. Her gift is the ability to control animals giving her the name Star Thief, which originated from Kenettran fiction. She comes from a noble family who loves her for the way she is, despite the fact that she is a malfetto.
Dante: Another member of the Dagger Society whose Young Elite name is the Spider. His gift is the ability to move extremely fast. He is also the only one who can tire Enzo out when they practice dueling. He is killed by Adelina when he threatens to tell the Dagger Society about her relationship with Teren.
Michel: Another member of the Dagger Society. His Young Elite name is The Architect and he helps Adelina with her illusions by giving her a painter's critic on all her creations. Michel has the ability to deconstruct objects and re-construct them in different places.
Lucent: A member of the Dagger Society who has the ability to control the wind, giving her the name Windwalker. She was banished from the nation of Beldain in the Skylands, after allegedly killing one of their Princes. She is shown to be very close to Maeve, the Princess of Beldain.
Martino Amouteru: Adelina and Violetta's father. After the blood fever killing his wife and turning Adelina into a malfetto, he tortures and mistreats her in attempt to figure out her power.
Violetta Amouteru: Adelina's younger sister. Despite having no physical flaws after surviving the blood fever, she has the gift of neutralizing another Young Elite's powers. When she and Adelina were living together with their father, she had blocked Adelina's gifts in order to protect her from her father. She is often compared to her mother in terms of her appearance (dark hair and eyes) and is described by Adelina as innocent and naive.
Sneak Peeks
"No one told me this was a brothel." "A pleasure court," Raffaele specifies. "Brothels are for the poor and tasteless."[2]
The boy approaches me. The only part of his face not hidden by his mask are his eyes—hard, midnight dark, alight with fire.[3]
His subtle smile turns dangerous. "So. Tell me, little wolf. Would you like to punish those who have wronged you?"[4]
I study the scarred, eyeless side of my face. Then I pick up my hair brush and smash the mirror into a thousand pieces.[5]
Today he's dressed in robes of pale gold, and his smooth face is unadorned except for some shimmering powder lining his eyes.[6]
It is my turn to use. My turn to hurt.
I've always liked her helplessness. It made me feel powerful. In those small moments, I was the better one.[7]
Trivia
References